September 30, 2009
New Videos: Nice Bros. Bollywood & 101 Plaza
September 15, 2009
Archer Pilot Premiere
SNEAK PREVIEW THIS THURSDAY, Sept. 17th, 10:30 PM after the It's Always Sunny Premiere. Tell everyone.
New Video: Nice Bros. Episode 6
This month's Nice Brother's episode premiered at Channel 101 NY right after another series, Old Friends. For maximum enjoyment, watch Old Friends Episode 2 first.
Also, it's election season! We made some campaign ads for Mike Bloomberg. BE WARNED: We didn't make all of these, and some of them are not safe for work or for more delicate sensibilities (NSFWoFMDS).
July 11, 2009
New Video: Nice Bros. Episode 5
June 13, 2009
Swinging Shelly
Shelly recently left New York for the west coast, but before she did that, she performed every Wednesday with an awesome improv group called the Baldwins. Jeremy Bales photographed them, then wrote about the experience and posted the below behind-the-scenes video.

May 12, 2009
The Skinny
Shelly wrote and stars in this new video directed by Ptolemy Slocum, shot by Paul Rondeau, with effects by Ed.
May 8, 2009
New Video: Nice Bros. Episode 4
April 22, 2009
New Video: Nice Bros. Episode 3
March 7, 2009
New Video: Nice Bros. Episode 2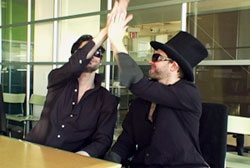 Nice Brothers was the NUMBER ONE SHOW for the second month in a row at Channel 101 New York. Thanks to everyone who voted!


Quicktime video
iPhone video

February 8, 2009
New Video: The Nice Brothers
Trevor and Adam debuted their new video, The Nice Brothers, at February's Channel 101 NY screening, where it took first place in prime time! We'll be back next month with episode two.



Quicktime video
iPhone video